Pizza Caterings & All Occasions, Catering in Mundelein, IL
2952 W. IL-Route 60


Mundelein, 60060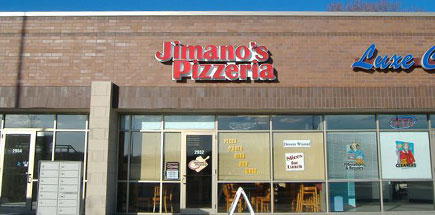 Catering Jimano's Pizzeria Mundelein, IL
Located in Mundelein, IL, Jimano's Pizzeria offers pizza catering that can make any mouth water. It has been our mission for over twenty years to provide the highest quality, best-tasting pizza in the region and beyond. In fact, as our popularity grows, so do our locations and our services. We now offer pizza catering for your special event, occasion, or party. Whatever it is, we have the most savory foods to please any palate. So whether your gathering will be full of children or full of any combination of people, we have you covered. Contact us today to find out more about our catering services and any specials we are currently offering. You will be pleasantly surprised.
Pizza Catering Services in Mundelein, IL
At Jimano's Pizzeria, we know you don't want the hassle of figuring out all the food. So we want to make it easy for you.
At Jimano's Pizzeria, we offer:
Online Request Information or Order
Pickup or Delivery
Catering packages
Beautifully prepared and presented menu items
All utensils, plants, napkins included
And more.
We do not offer servers, but we do offer a lot of good cookin'. Order today and see how we can make a difference at your next event, occasion, or party.
All Occasions Catering in Mundelein, IL
At Jimano's Pizzeria, we care about our community. And in Mundelein IL, our community is tight knit and welcoming. There's always something going on, and always that something needs some savory food to make it all the more enjoying.
We want you to enjoy our food just as much as we do. Whether it's at our restaurant or at your next event, you can share the joys of Italian goodness with friends and family.
Some of the more popular occasions we cater include:
Birthday parties
Weddings
Graduation parties
Super bowl parties
Family Reunions
Baby Showers
Company functions
Sporting events
Fundraising events
Just about anything!
Contact Jimano's Pizzeria Near You Today for Catering in Mundelein IL
In Mundelein, IL, we are a small community with just under 32,000 people, but we got a lot of heart and love, and we like to share it. At Jimano's Pizzeria, we like to share a lot of heart and love, too, especially for our all occasions catering services. Contact us today at 847-949-8400 to learn more about the catering pizza experience.