Pizza Caterings & All Occasions, Catering in Pleasant Prairie, WI
9000 76th St. Hwy 50


Pleasant Prairie, 53158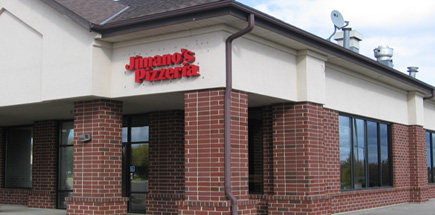 Jimanos Pizzeria Catering
Have an event soon in Pleasant Prairie, WI or Kenosha, WI? Looking for the right catering service? Jimano's Pizzeria in Pleasant Prairie may be the right choice for you. We offer all occasions catering. Nothing says parties, fundraisers, gatherings and social events more than pizza. Pizza is the ultimate community food that promotes sharing and conversation, the two main goals of most events.
But we don't stop with pizza. We offer a whole lot more so you can build an all occasions catering order perfect for your event in Pleasant Prairie WI or Kenosha WI.
Hometown Jimano's Pizzeria Appeal
With 20 years of hometown service, you don't need to travel to Milwaukee or Chicago for the best in pizza in the region, you have it right here in Pleasant Prairie WI. Jimano's Pizzeria menu is loaded with all the favorites of a pizzeria and garnished with lots of homemade goodness and love for all things that are zesty, saucy and overall flavorful.
From slices to whole pizzas with customizable crust (thin, double dough, deep dish, stuffed, and gluten-free) to zesty pasta dishes to chicken and ribs, Jimano's Pizzeria has a wide selection to please anyone's taste buds. For the healthier persons at your event, we also offer an assortment of sautéed veggies and fresh, crisp salads. Then don't forget the appetizers and desserts to top it all off.
Catering to Your Taste Buds
Bring the goodness of homemade pizzeria food to your event. Indulge your guests with rich food reminiscent of good times and social gatherings. At Jimano's Pizzeria, we offer a pizza catering menu complete with all the favorites in addition to specialty items that will enhance any event with a feeling of old-fashioned hospitality.
Pizza Catering Menu
Pizza, traditional & specialties
Sauces (pizza, BBQ, Buffalo, Alfredo, Jimano's homemade)
Appetizers
Chicken & Ribs
Salads
Sandwiches
Pasta
Desserts
Beverages
Our pizza catering menu is full of descriptions of all pizzas and plates we offer.
Pizza Catering Services
Delivery or Pick-up
Utensils
Plates
Napkins
Some catering businesses may offer servers, but our food is the kind that requires no servers — just a free hand and a pass of the plate.